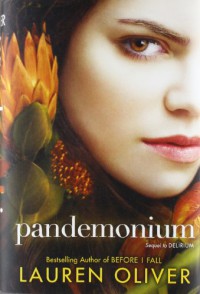 Pandemonium is a sequel to Delirium, one of my favorite books of last year. Chapters alternate between then and now, disrupting the momentum and impact of the entire book. I cannot imagine why such a skillful writer as Lauren Oliver chose to do this.
While I liked the character of Julian I didn't much care for the other new folk. Raven, in particular, just didn't cut it for me (although the story of Blue did). I think if the novel had proceeded straight forward through time then maybe I would have felt closer to the others. I found the ending (not the very, very ending) slightly silly (could they really have done that?) and the very, very ending predictable.
I treasure Delirium. As a stand alone novel it is excellent. It doesn't need anything to be added to it. Skip the sequels!